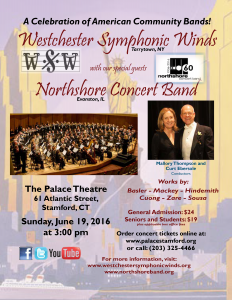 Although there's no conducting symposium this spring, I'm very excited to announce that the renowned Northshore Concert Band of Evanston, IL, conducted by Mallory Thompson, will be performing in our area next month. I'm thrilled to be sharing this concert with Mallory and Northshore! I'm writing to ask you to please share this news with your ensemble's members, and encourage them to consider attending.
Northshore will be sharing this concert with the Westchester Symphonic Winds on Sunday, June 19 at 3 pm, at the beautiful Palace Theatre in Stamford, CT (a short walk from MetroNorth). Tickets are $24 General Admission, $19 Students/Seniors. This concert will complete the exchange in which we participated when we traveled to Chicago last June.
The program includes works by Basler, Mackey, Hindemith, Cuong, and Zare. After each band performs individually, we'll be combining to perform two Sousa marches in an amazing finale.